More proof that times are changing: The Wizards are featured prominently in the preview of the NBA 2K15 video game preview and not as a punch line or mere supporting cast.
Can't say I'm much of a gamer these days, though the graphics in this preview make me want to revisit that situation Seriously, look at the details with Chris "Birdman" Andersen's beard and tattoos. Anyway, the Wizards.
59 seconds - Somebody has a sense of humor. Of course Kevin Durant is all over the preview. There are 29 teams that could serve as the opposition in any of these clips. On this one, you guessed it. Not only is Durant facing the Wizards, he's being defended by No. 34 Paul Pierce
1:15 - Brief glimpse at John Wall looking all kinds of frustrated. Perhaps this is a Game 6 loss to Indiana homage. Of course, not sure any video game could capture Wall at his truly distraught.
1:23 - Wall turns that frown upside with a thunderous open court dunk. Note a certain Bradley Beal running along side as his wingman. Art imitating life.
Other notable points of the video include Andrew Wiggins wearing Cavaliers gear, Pau Gasol sporting a Bulls jersey and LeBron James dunking. Note James' jam is against the Miami Heat and specifically rookie Shabazz Napier, who Miami drafted in the hopes of keeping James in South Beach.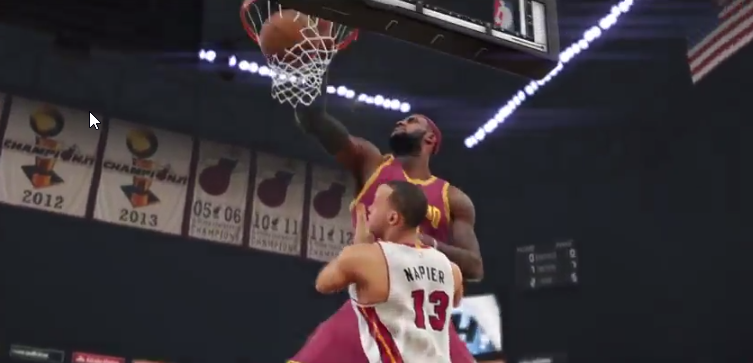 The video game arrives in stores Oct. 7. At that that, if anybody plays the game and plays out a season, let us know how the Wizards fare and, since you're going to try, how Durant looks wearing a Washington jersey.